Friday, March 28, 2008
Spring Shopping Spree
My mom and I enjoyed a nice day of shopping together today. We started our morning with a tasty Belgian waffle with strawberries at Coco's. (MMMMMM!)
Normally, I loathe shopping. I'm sure the feeling is one that other CFers share. When you combine my barrel chest, chicken legs, flat butt, flat chest and short waist, finding something to fit can be, well...an experience that includes weeping, wailing and gnashing of teeth.
Today was an anomaly. Not only was I interested in shopping, but I was prepared to look for a SWIMSUIT! (Eeeegads!) Off to the mall we went. The following is a little tune in honor of the event. It's to the tune of Take Me Out to the Ball Game.
"
Take Me Out to the Mall Mom"
Take me out to the mall, Mom,


take me out to the crowd.


Buy me a sundress and shoes to match,


I don't care if we never go back


for it's CHARGE CHARGE CHARGE on the Visa,


if we don't spend it's a shame,


for it's 10, 20, 30 percent off at the mall today!
Well, I not only found a swimsuit that fit, but it's adorable!It's one of those tankini types, so it covers up my scars. The bottom is a little skirt with a split at the thigh, which makes my legs look heavier than they are (hooray!) My mom spotted a sundress that she said was perfect for me. She offered to buy it, so I wasn't going to argue. Then we found a nice long gauzy top to wear over the swimsuit so I don't burn, and the world's most comfortable pair of sandals.
I can't wait to show it off soon!
Wednesday, March 26, 2008
My 2008 Great Strides Letter
Dear Friends,
Imagine for a moment that you are trapped in a room that is slowly emptying of breathable air. You feel as though a weight is pressing upon your chest; no matter how panicked you become, you can't even summon enough breath to cry out for help. You try to hold as still as possible, knowing that every additional movement robs you of your precious and rapidly diminishing energy supply.
That's what pneumonia feels like to someone with cystic fibrosis.
As a person who lives every day with cystic fibrosis (CF), I know this feeling all too well. Like many others with CF, pneumonia and respiratory complications are just the tip of the ice berg of complications that I battle on a daily basis. My daily routine involves dozens of pills, hours of inhaled medications, and constant monitoring of my energy level. And I'm one of the lucky ones.
Every day I am given is a blessing. Thanks to new improvements in the medications and treatment options, I am living every day to the fullest. My husband and I work hard to balance the challenge of life with CF in such a way that we can enjoy other things. Although we cannot forget about the presence CF has in our life, we can look at it as a challenge to be overcome, not an obstacle that stands in our way.
The Cystic Fibrosis Foundation (CFF) is committed to providing that same sort of life to others with CF. By funding the research needed to develop life-improving medications and therapies, more people with CF are given the chance to live a full and productive life. Unfortunately, there is no cure for cystic fibrosis. Half of the population of people with CF will not survive past the age of 36.
Please consider donating to the Cystic Fibrosis Foundation on my behalf. Just click the DONATE button below. You may also view my official CFF Fund raising page at http://www.cff.org/Great_Strides/LaurenBeyenhof
Appreciatively,
Lauren G. Beyenhof
Tuesday, March 25, 2008
Some New Articles
Monday, March 24, 2008
Not Much Going On Today
Not a whole lot is going on today, and I think that's a good thing. I'm hoping that it signals the coming of a peaceful and healthy season for me. A few weeks ago Brad and I sat down and had a serious discussion about how to really budget my time and energy so that I don't get overwhelmed. I have to admit, at first I felt like things were being taken away from me. I didn't want to have to relinquish some projects and activities. Now I see that by really zeroing in on a few things rather than trying to wrap my arms around a whole slew of stuff, I can more fully appreciate those few things. It's sort of like replacing a panoramic view of my life with a more finely tuned close up photo. All the detail and color I need is right in front of me, and it's wonderful.

From a CF standpoint, things have been going really well since I ended the tune-up. I've been getting regular, sound sleep, and I'm keeping my weight on. Brad is doing a great job of keeping me well supplied of Eggos. There's just something about Eggos and a tall glass of chocolate Instant Breakfast that steels my wool.

Lately I've been connecting more with others who have CF. There are days when I really wish that I wasn't limited to online interaction, but I know that's the way it simply has to be. As I've gotten older it has really blessed me to find others who share in the things I struggle with, and who profess the same source of hope that I do. It's encouraging to know that I can send an email to one of my CF friends and not have to explain much detail about why I'm having a rough day or a good day.

Work is going well, both the freelance stuff and my science work. There's no question about it--God has uniquely suited me for this sort of work, and has seen fit to give me a flexible schedule. Like I said in a previous post, this really is the good life. The best part is, the good life really isn't about how many things or possessions or experiences I have. It's about having the kind of peace that surpasses all understanding. I hope that people who read my blog can see that it is possible to live well and be content, even with such a dastardly disease like CF.

Friday, March 21, 2008
To the Tune of "Oh What a Night"
This one's called "I Coughed All Night." It's to the tune of Frankie Valli's "Oh, What a Night"
I coughed all night.
Hacking, gagging I was up 'til 3

What very lousy night for me
'cause I was coughing hard all night.



I coughed all night
You know I did all my inhalers first
But all that did was give a short-term burst
I'm still wheezing; what a night.
Oh I got a funny feeling when I breathed
Deeply from below.
I prayed this feeling would just end so soon.


I coughed all night

Getting sweaty trying not to puke
I hope to God that this is just a fluke
And maybe I'll be alright.



I felt a popping and a gurg'ling inside me
Hemoptysis is what's probably going on in me.


I've coughed all night.
Tuesday, March 18, 2008
Schmooz-a-Palooza!
I am so wonderfully exhausted after the Writers Conference. Bear with me, since this might be a LONG post about the experience. I was just too busy to blog while I was there, so here's the big update.
Brad brought me to the airport bright and early on Friday morning. I was so excited the night before, I hardly slept. Since I was going to be navigating through the airports on my own, I wanted to make sure I packed as lightly as possible, but still had all the essentials. Thank goodness the carry-on bag limit doesn't apply to medical stuff! I managed to pack everything really well this time, and had zero trouble getting through the security line, even with all my stuff. I think wearing a mask prompted the TSA agents to cut me some slack.
I wish I could say the plane ride was uneventful, but it wasn't. I got a major bloody nose! When I asked the flight attendant for some tissues, she brought be a wad of paper towels. OUCH! It was really hard to wipe my nose with that, let alone jam it up in there to promote clotting. Oh well.
When I got to the airport I picked up the rental car. Red mustang. WOO HOO. It was fun to splurge a little.
I got there in time to check in and head right to the dining room. My roommate (Judith) and I had stopped for a quiet meal together before arriving at the conference, so the group lunch was almost over when we arrived. I stood in the back of the room at surveyed the crowd. I saw a lot of familiar faces from last year. I recognized a lot of the authors and agents, which was good. Some of them even remembered me, which was even better!
Then I saw her...Robin Jones Gunn. If any of you out there are familiar with Christian teen literature, then you know who she is. She's the author of the Christy Miller series, as well as the Glenbrook stories, Sisterchicks (R) and the Sierra Jensen novels. And she was right there in the flesh!
I walked right up to her, introduced myself and told her why Echoes is my favorite book (the characters are Brad and Lauren). She gave me a great big welcoming hug and asked about what I write. I told her and she gave me another huge hug and on the spot said she wanted to read it.
The procedure for getting a manuscript reviewed is usually not that speedy! You have to set an appointment, get permission...blah blah blah. Well, she wrote me a "permission slip" to submit my manuscript right then an there. I took my proposal down to the manuscript transmission office and turned it in. 24 eager hours later, I got it back. Robin herself had critiqued it for me, and put a note on it saying she wanted to discuss it with me. WOW! I found her after dinner and we set up a review appointment.
Robin Gunn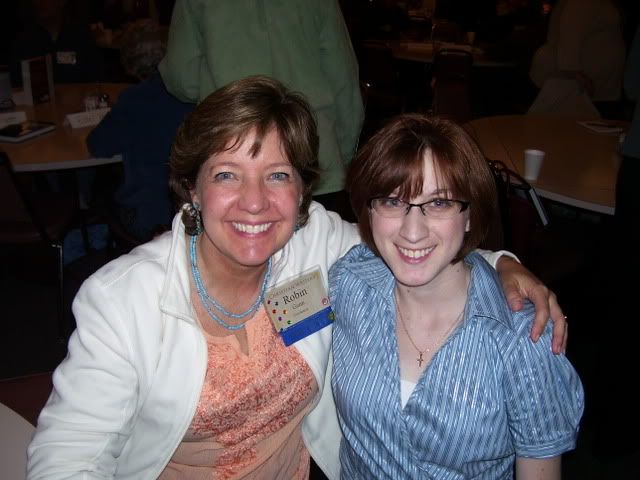 The feedback I got was excellent. She recommended that I work more on filling out the book as our story about life with CF, instead of the letters. In a way I like that better. The letters can stay private, but I know I can easily flesh out the book with stuff about life with CF. The conference was off to a great start! Robin had also referred me to her agent at Books & Such. The agent also gave me permission to send a manuscript when it's ready.
The next day I made appointments with other editors and publishers of magazines. I gave them copies of some of my best articles and they say by writing ability is "tight" and "Just what they're looking for." Add those feathers to my cap, and I was riding high!
Next I met with my mentor, Kay Strom. I told her of the success I'd been having and she was so encouraging. She said all I really need to work on is getting a broader "platform." Basically, that means I need all of YOU, my friends and faithful readers, to either subscribe to my Pools of Grace blog, or make sure you keep checking my other CF blogs so that my statcounter will register my page hits.
Kay Strom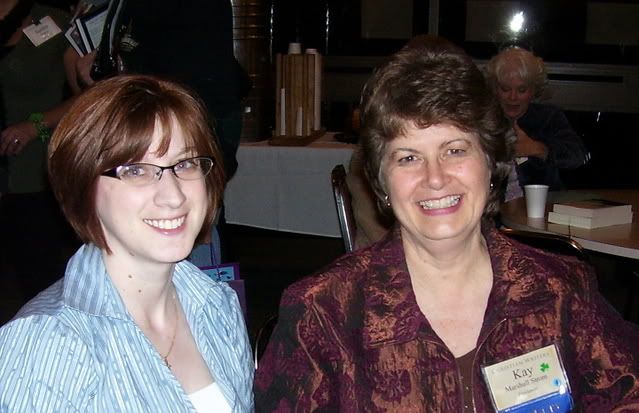 Another recommendation was that I keep submitting articles to magazines (again, an aspect of building a readership and platform) as well as get some experience speaking. No problem! As a result of all the networking I did at this year's conference, I have a couple of speaking gigs practically in the bag already. I met a man whose son died of CF. He invited me to come speak to his CF guild as well as his rotary club. A woman I met last year who was there again this year is writing a book to help parents whose kids are terminally ill. (Her daughter died of cancer at 19.) She invited me to come speak at her husband's Kiwanis Club.
Lynette Norton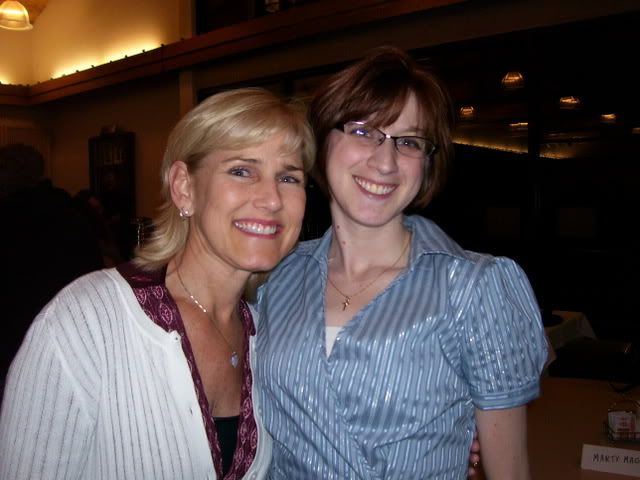 If any of you are involved in community groups like that and would like me to come speak about CF or goal-setting or similar topics, please contact me. I would greatly appreciate the opportunity to share my experiences with others in an effort to help them understand and appreciate what life is like with CF.
This morning I was interviewed for an article for ABCNews.com. The article should be available tomorrow. I'll be sure to post it!
Phillip E. Long
James Scott Bell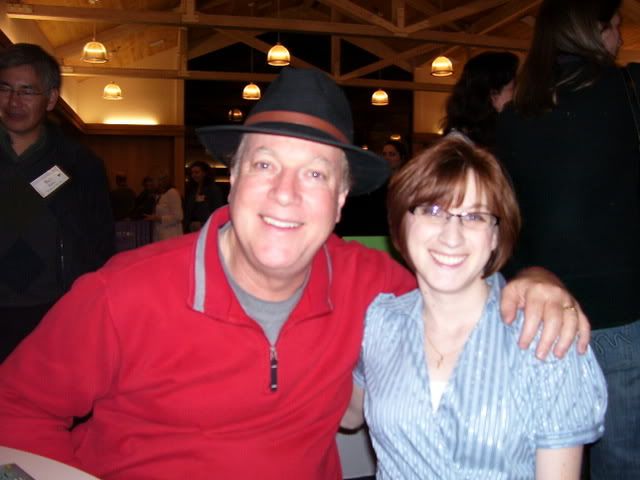 Judith Ann Hillard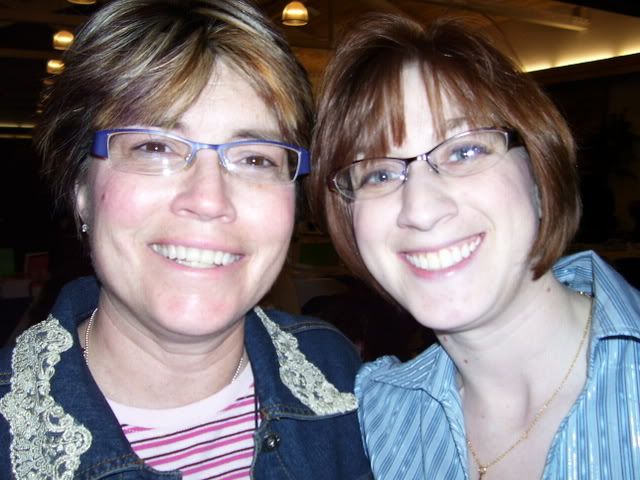 Sunday, March 16, 2008
The Pirates of CF
Be afraid, be very afraid. My husband and I got this idea during dinner, and we've spent a couple hours together this evening coming up with the lyrics. It was scary. If that's not just the perfect picture of taking something as serious as CF and making light of it to the point where it brightens your day to be thinking about it...
All I can say is my husband is incredibly talented. A little goofy perhaps (but so am I) and hilarious with wordplay!
I Am the Very Model of a Patient in the Hospital (to the tune of Modern Major General, from
Pirates of Penzance
)
~ lyrics by Lauren and Brad Beyenhof
I am the very model of a patient in the hospital
I swallow every pill, if it is vitamin or mineral
I know my medications and their purpose gastronomical
From AquADEKs to Zithromax, in order pharmaceutical
I'm very well acquainted, too, with matters anatomical
I understand my PFTs; my lungs, my lobes, my bronchioles
About my sinus polyps, I am teeming with a lot of news
With many awful facts about the cultures from my airway tubes
With many awful facts about the cultures from her airway tubes
With many awful facts about the cultures from her airway tubes
With many awful facts about the cultures from her airway airway tubes
I'm very good at coughing up a sample to be analyzed
I know the scientific terms; the doctors' words do not surprise
In short, in matters of my body, viral and bacterial
I am the very model of a patient in the hospital
In short, in matters of her body, viral and bacterial
She is the very model of a patient in the hospital
I know my patient history, my surgeries and tune-ups past
My allergies, my FEV, and symptoms of a glucose fast
I follow doctors' orders for all testing that is annual
The DEXA scan, OGTT, a panel metabolical
I can tell exacerbation from a chest cold or the Asian flu
I know when intravenous meds and nothing else will really do
Then I take needed time off work to get a bit of decent rest
And do my nebs three times a day, while wearing my vibrating vest
And do her nebs three times a day, while wearing her vibrating vest
And do her nebs three times a day, while wearing her vibrating vest
And do her nebs three times a day, while wearing her vibratingating vest
When airway clearance works, and so do medications in my veins,
Then I can go back to my job and exercise my itching brain
In short, in matters of my body, viral and bacterial
I am the very model of a patient in the hospital
In short, in matters of her body, viral and bacterial
She is the very model of a patient in the hospital
I know I need a lot of food with proteins, fats, and calories
To combat undernourishment and other harmful maladies
The salt shaker and butter dish are staples for my every meal
Unless I take my enzymes first, a tummy-ache I'm sure to feel
My appetite is huge and I eat many meals throughout the day
I feast on roast beef, Chinese food, and pretzels made by Frito-Lay
When I have gained some weight, my progress seems to be so positive
I'm sure that all these foods and supplements will truly help me live
She's sure that all these foods and supplements will truly help her live
She's sure that all these foods and supplements will truly help her live
She's sure that all these foods and supplements will truly help her help her live
My family is supportive, and because of them I am so blessed
My doctors and my nurses want to help me be my very best
But still, in matters of my body, viral and bacterial
I am the very model of a patient in the hospital
But still, in matters of her body, viral and bacterial
She is the very model of a patient in the hospital
Tuesday, March 11, 2008
The Good Life
Back in December we hired a cleaning service. When Brad first brought up the idea I was offended.
Me?! Need a cleaning woman? Don't you know I'm Dutch? I can keep a house just fine thank you very much!
The truth is, Brad didn't bring up the idea because he was dissatisfied with the way our house looked. He wanted to hire someone so that I would have less on my plate to worry about. He knows how much I enjoy making our house a home, and just because we hired someone else to vacuum, dust and wipe the counters doesn't mean I'm any less of a wife.
We've recently juggled our finances and got creative so that we can have the Maid Brigade come twice a month. I've been pretty happy with them so far. They don't use any strong smelling or allergy inducing products. In fact, part of their company's policy is to promote better health through cleaner homes. I'm all for that! Today when I came home after work it was so nice to know that the range on the oven was shiny and clean, just beckoning me to make us a wonderful meal. The upstairs loft was freshly vacuumed, ready for me and Gimli to play a quick game of "tag" before I even changed my clothes from work.
Now, here I am, sitting on what appears to be a freshly rotated couch cushion, enjoying the sound of our whites spinning away in the washing machine. I had energy to sort and start the laundry because I wasn't busy wiping down the surfaces in the bathroom.
This is the good life. I have a God who provides for me, a husband who loves me, a job that satisfies me and the medications I need to keep on enjoying it all for quite a long time yet to come. Yes; this is good.
Saturday, March 08, 2008
Finishing up a Great Week
Despite my lack of sleep on Tuesday night, Wednesday and the rest of the week turned out to be great! Brad and I enjoyed a nice meal at Peking Palace before my doctor appointment. We were really hoping and praying that the results of my lung function tests would be sufficient to stop the course of IVs.

My first FEV1 was over 2.0 and I wanted to see how much higher I could get. I did a few more tests, and I didn't have to stop to rest or cough like crazy in between. My highest FEV1 turned out to be 2.28L. My peak flow was 780, which was pretty awesome considering that my allergies and asthma were going wack-o. Another highlight of the appointment was that my weight was up considerably from the week before. I've got just a couple of pounds to go before I'm back at a personal best. I'm working out again at least 4 days a week, and I'm sure that's contributing to making me feel well.

My doctor was satisfied with my progress and said I could go ahead and deaccess my port. I did one more infusion of Merrem that night just for luck, and then took a much needed hot bath and crawled into bed. The doctor is concerned though about the possibility that I have C. Diff. I have to go have some lab work done to check on that.

In the work arena my week was great too! I was given a couple of great assignments that really challenged me. I was able to complete them to the satisfaction of my supervisor. That meant a lot to me. I had been worried about the transition back to work after being out for the tune-up. It was extremely gratifying to be welcomed back and treated just like any other employee. I really appreciate that about my workplace. Even with all the shifts we've had lately in personnel, I've been able to ride the tide so to speak and keep up with the group.

Wednesday, March 05, 2008
Counting Sheep...I made it to 761
It's about 1:30 in the morning and I can't sleep; mostly it's because I've got this tight, dry cough that just won't quit. It feels like an asthma/allergy issue. The weird thing is my peak flow is 570 and my FEV1 is 2.09L, which hardly seems consistent with asthma and allergies. I'm hoping that by nebbing some hypertonic saline I can loosen up whatever is in there causing the irritation.
I'm really glad to see that my FEV1 has improved though. I bought a little home unit spirometer about 2 months ago. Initially I wasn't impressed. The breathing technique it requires is so different from what I'm used to. There's no tidal breathing or working to squeeze out those last few cc's of air. All you do is take a big breath in and blast it on out just like you'd do with a traditional peak flow meter. Now that I've gotten the hang of it, I realize that this technique has forced me to focus on being able to aim high and hard for that first second of breathing out.
Tomorrow will be the true test, however. I have a CF clinic appointment, complete with spirometry. I'm hoping and praying that my FEV1 will be satisfactory so that I can discontinue the IV antibiotics. It's getting to the point now where the cure is worse than the disease, so to speak. I'm on Merrem, which isn't causing any problems. The colymycin, however, is making my whole face itch and my lips and tongue numb. I won't even try to describe the gastrointestinal issues that come along with antibiotics. Let's just say YIKES! and leave it at that.
====TOPIC SHIFT====
Today was my first day back at work after all of the hospital hooplah. It was more tiring than I expected. I did get assigned a rather interesting project. It's the first of its kind that I get to work on from the ground up. The assignment did a lot to bolster my self-esteem. I had been feeling like I wasn't getting my full use of my college degree because I was in the hospital more than I was at work lately. I felt as though I had worked so hard only to have a short-lived foray into the professional world. This project, however, is the very thing I wanted to be doing with my degree. It's interesting and meaningful, and doggone it, I think I can do it well!
Well, my hypertonic saline neb treatment is winding down, so I should probably try to get some sleep. I think instead of counting sheep this time I'll try counting sea shells. I'll imagine that the white noise from my air purifier is the sound of ocean waves, and that I'm walking along picking up shells one by one.
Saturday, March 01, 2008
Another Amusing Little Ditty
To the tune of "Be Our Guest" from
Beauty and the Beast

Try the vest,
try the vest,
it's airway clearance at its best
cinch it tightly 'round your torso
it inflates against your chest.
Choose how hard
choose how fast
and how long the treatment lasts.
try some saline
it works wonders
don't believe me? Check your numbers!
PFTs will improve
once you're settled in the groove
of the vest that loosens up all that thick mess!
Go on and use it daily
take a chance and maybe
you'll request
to use the vest,
use the vest!