Tuesday, March 18, 2008
Schmooz-a-Palooza!
I am so wonderfully exhausted after the Writers Conference. Bear with me, since this might be a LONG post about the experience. I was just too busy to blog while I was there, so here's the big update.
Brad brought me to the airport bright and early on Friday morning. I was so excited the night before, I hardly slept. Since I was going to be navigating through the airports on my own, I wanted to make sure I packed as lightly as possible, but still had all the essentials. Thank goodness the carry-on bag limit doesn't apply to medical stuff! I managed to pack everything really well this time, and had zero trouble getting through the security line, even with all my stuff. I think wearing a mask prompted the TSA agents to cut me some slack.
I wish I could say the plane ride was uneventful, but it wasn't. I got a major bloody nose! When I asked the flight attendant for some tissues, she brought be a wad of paper towels. OUCH! It was really hard to wipe my nose with that, let alone jam it up in there to promote clotting. Oh well.
When I got to the airport I picked up the rental car. Red mustang. WOO HOO. It was fun to splurge a little.
I got there in time to check in and head right to the dining room. My roommate (Judith) and I had stopped for a quiet meal together before arriving at the conference, so the group lunch was almost over when we arrived. I stood in the back of the room at surveyed the crowd. I saw a lot of familiar faces from last year. I recognized a lot of the authors and agents, which was good. Some of them even remembered me, which was even better!
Then I saw her...Robin Jones Gunn. If any of you out there are familiar with Christian teen literature, then you know who she is. She's the author of the Christy Miller series, as well as the Glenbrook stories, Sisterchicks (R) and the Sierra Jensen novels. And she was right there in the flesh!
I walked right up to her, introduced myself and told her why Echoes is my favorite book (the characters are Brad and Lauren). She gave me a great big welcoming hug and asked about what I write. I told her and she gave me another huge hug and on the spot said she wanted to read it.
The procedure for getting a manuscript reviewed is usually not that speedy! You have to set an appointment, get permission...blah blah blah. Well, she wrote me a "permission slip" to submit my manuscript right then an there. I took my proposal down to the manuscript transmission office and turned it in. 24 eager hours later, I got it back. Robin herself had critiqued it for me, and put a note on it saying she wanted to discuss it with me. WOW! I found her after dinner and we set up a review appointment.
Robin Gunn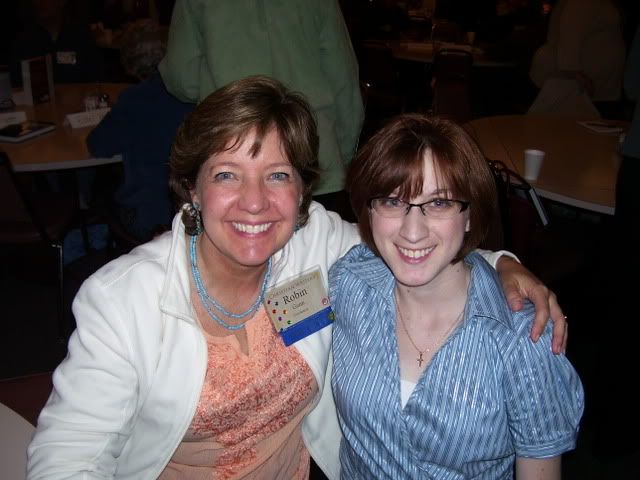 The feedback I got was excellent. She recommended that I work more on filling out the book as our story about life with CF, instead of the letters. In a way I like that better. The letters can stay private, but I know I can easily flesh out the book with stuff about life with CF. The conference was off to a great start! Robin had also referred me to her agent at Books & Such. The agent also gave me permission to send a manuscript when it's ready.
The next day I made appointments with other editors and publishers of magazines. I gave them copies of some of my best articles and they say by writing ability is "tight" and "Just what they're looking for." Add those feathers to my cap, and I was riding high!
Next I met with my mentor, Kay Strom. I told her of the success I'd been having and she was so encouraging. She said all I really need to work on is getting a broader "platform." Basically, that means I need all of YOU, my friends and faithful readers, to either subscribe to my Pools of Grace blog, or make sure you keep checking my other CF blogs so that my statcounter will register my page hits.
Kay Strom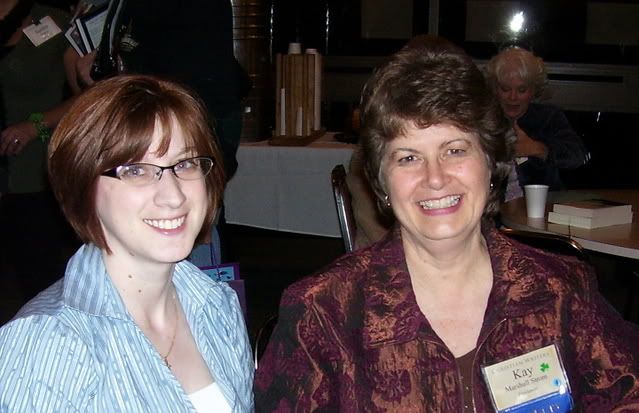 Another recommendation was that I keep submitting articles to magazines (again, an aspect of building a readership and platform) as well as get some experience speaking. No problem! As a result of all the networking I did at this year's conference, I have a couple of speaking gigs practically in the bag already. I met a man whose son died of CF. He invited me to come speak to his CF guild as well as his rotary club. A woman I met last year who was there again this year is writing a book to help parents whose kids are terminally ill. (Her daughter died of cancer at 19.) She invited me to come speak at her husband's Kiwanis Club.
Lynette Norton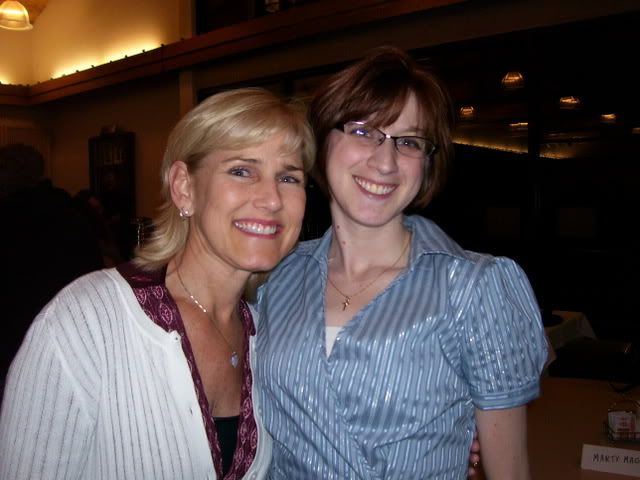 If any of you are involved in community groups like that and would like me to come speak about CF or goal-setting or similar topics, please contact me. I would greatly appreciate the opportunity to share my experiences with others in an effort to help them understand and appreciate what life is like with CF.
This morning I was interviewed for an article for ABCNews.com. The article should be available tomorrow. I'll be sure to post it!
Phillip E. Long
James Scott Bell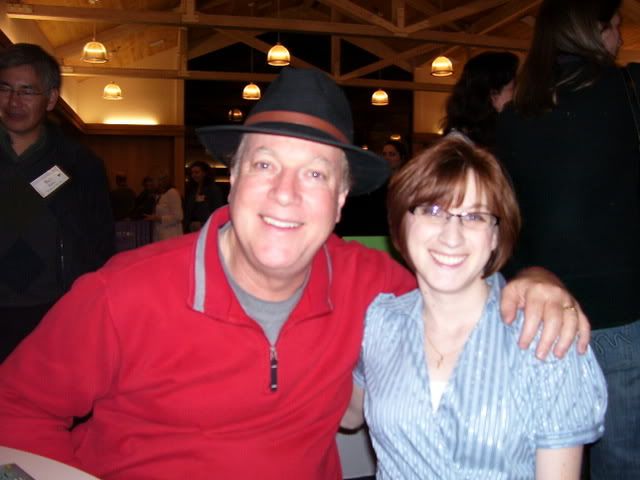 Judith Ann Hillard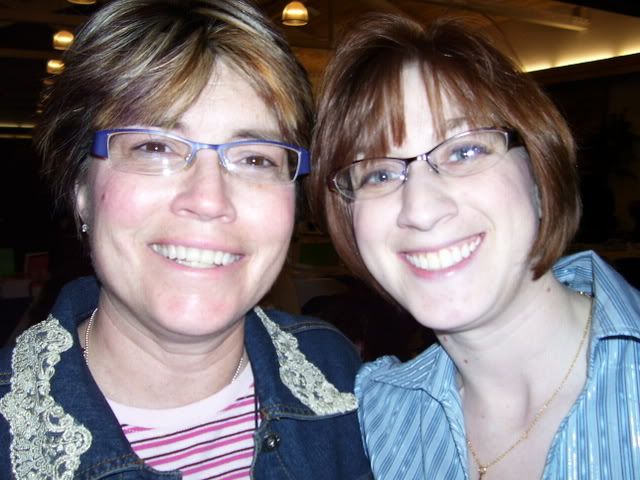 Comments:
Lauren,
Hello! My name is Amber Metz, and I'm a twenty-two year old CF patient and double lung recipient. I recently published a book entitled 'Breathtaking', written from a series of emails I wrote during the time I was awaiting and up to 3 months after my transplant. I'd like to send you a copy and get to know you better!!
Please feel free to check out my website (www.ambermetz.com), and if you're comfortable, email me your mailing address. My email is amber@ambermetz.com.
I'm looking forward to hearing from you. I wanted to email you, but I couldn't find your email address on your blog, sorry!
Hope you had a blessed Easter!
Amber N. Metz
Post a Comment
<< Home