Friday, October 19, 2007
My Trip to Arizona
The end of this month I'm going to a writer's clinic with my co-author, Judith. She was going to come out to CA so we could get our proposal together and hammer out a couple of sample chapters. Unfortunately, her MS was really acting up, and she couldn't make the drive. So, after checking with my wonderful hubby to make sure he wouldn't miss me too much, I hopped in the car and drove to Phoenix.
While I was there I helped her set up a 501c3 non-profit organization called Addiction Overcome, Inc. Judith's personal story is incredible. She is a former cocaine addict who broke free from her addiction about 12 years ago. Her book is absolutely gripping, and filled with hope. I've got a few copies if anyone wants to buy one. Or just visit her blog
http://addictionovercome.blogspot.com.
Anywho, I was SO glad she didn't try to drive out here. MS was rendering her quite helpless, and I was glad to be there to help her and her 11-year old daughter (whom I adore!) I just can't imagine being in constant pain 24/7. It got so bad at one point that I needed to bring her to Urgent Care. I was disgusted by how they treated her. There is such a stigma in treating former addicts. They left her waiting needlessly and gave her the run-around about giving her any sort of medication for relief. She was in tears, couldn't walk, and the stress of the situation was making her BP in the 170/140 range or something scary like that. Furthermore, her optic nerves were being pressed upon making her temporarily blind. My heart broke for her and I thought to myself "wow, this makes CF look easy."
Of course, I don't think I'd say that about CF if I hadn't been dealing with it for 3 decades. If I had only been recently diagnosed I'd probably be much more overwhelmed with everything. I'm so thankful for the progress that I've made over the last six months. Life is pretty darn good right now.
I'm looking forward to going back to work in a couple weeks. I'm thrilled to be helping work on our book "Not MY Kid: The Myth of the Drug Free Home" (by the way, anyone who may have some information to share about your family's experiences with that, particularly if you have a story of recovery and hope, we'd love to hear it. Please email me poolsofgrace at gmail dot com)
The picture I've attached is of Olivia, my friend's daughter. Isn't she a sweetheart? She let me do her hair one last time before I took her to have it chopped off into a cuter style before her school picture today. I had SO much fun being "Auntie Lauren."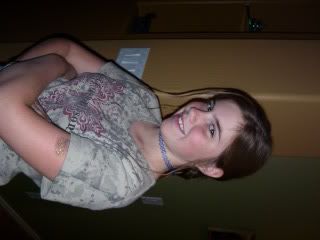 Comments:
My aunt has MS. It's a horrible disease, not that any diseases are "good ones". But I look forward to reading the book when finished.
Post a Comment
<< Home